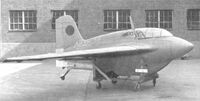 Mitsubishi J8M
"Shusui"
General Historical Information
Place of origin
Japan
Speed
900 km/h
Category
Rocket Jet Interceptor.
General Ingame Information
Used by
Japan
Guns
2x 30mm Type 5 guns
Historical Picture
The Mitsubishi J8M "Shusui" was a Rocket Jet Interceptor designed and used in the Second World War. When the Allies conquered the sky with heavy bombers like the Boeing B-17 "Flying Fortress", Boeing B-29 "Superfortress" and Avro Lancaster, the Japanese airforce needed a quick interceptor aircraft. The results were the Messerschmitt Me 163 "Komet" from Germany. Japan made an agreement with Germany to built the aircraft by Mitsubishi. Two prototypes from the Komet went to Japan via two German submarines included the blueprints. One of those ships, with the prototypes, was sunk by the Americans, but the other with the blueprints and engine survived the trip and arrived ito Japan in July of 1944.
Mitsubishi got the permission to built the aircraft. In August, a wooden model was ready and the Japanese army ordered seven prototypes known as J8M-1. The first prototype was ready in early 1945 in Nagoya and was tested by the pilot Toyohiko Inuzuka. But after a few seconds, it crashed and the pilot died. A few weeks later, Hiroshima and Nagasaki were bombed with an Atomic Bomb. The war was over....and the project was cancelled.