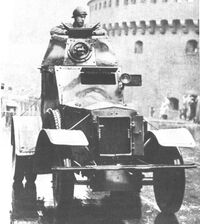 Samochód pancerny wz. 34
General Historical Information
Place of origin
Second Polish Republic
Category
Light Armoured Car
Debut in FHSW
Debut in FH Mod
Speed
50 - 55 km/h
Main armament
37mm wz. 18 (SA-18) Puteaux or

Hotchkiss wz. 25 kal. 7,92 mm

General Ingame Information
Used by
Poland
Crew in‑game
2
Ammunition
100 / 2000
Seat 2
Commander
Historical Picture
Samochód pancerny wz. 34 ("armored car 1934 pattern"), was a standard light armored car used by the Polish Army during the September Campaign of 1939.
The vehicle was based on the earlier half track samochód pancerny wz. 28, which entered service in 1928. The original vehicle proved to be unpopular with its crews who were unhappy with its handling, low maximum speed as well as poor cross-country capabilities and it was decided to rebuild it as a wheeled vehicle. The new version of the armored car entered service in 1934.
The cars were built in a number of versions with different engines and slightly different armored plates. They were armed with either 7.92 mm version of Hotchkiss M1914 machine gun (karabin maszynowy Hotchkiss wz.25) or the short-barreled 37 mm Puteaux SA 18 gun.
By 1939 at the outbreak of the Second World War the car was obsolete but was still in use by some reconnaissance units.